Success in life | Achieving success | 5 steps to success | Achieving success life
Tips for Achieving success in life.
How can you succeed in your life? We will try to answer this difficult question, Achieving success is not easy, but it is not impossible either.
In order Achieving success in life, you need to know yourself first, and also know that there is always one step that separates you from Achieving success, to change your life and know how to Achieving success.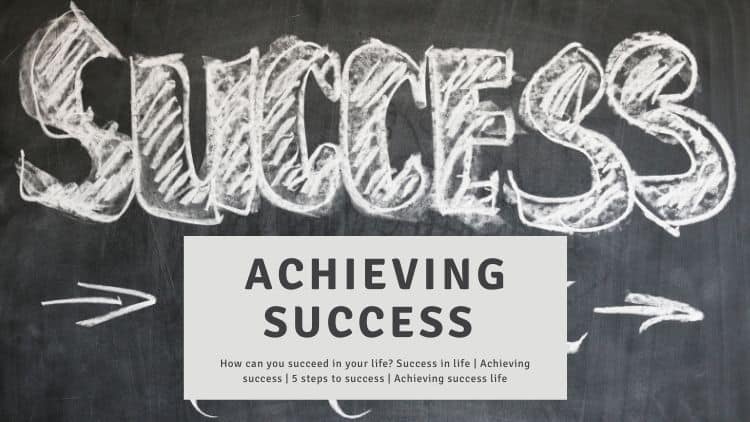 Anticipate your success.
Be responsible.
Be the leader.
Don't let fear hold you back.
Constantly improve yourself.
Anticipate your success
Anticipation and anticipation of the event is one of the most important factors for Achieving success now, because you always have to be prepared for everything that may happen, and as I said in my previous topic, how to control anger, it is always better to be prepared for every moment, so that your reaction and decision is not bad, and the opportunity for Achieving success is lost. To be quick in making a decision.
Do you know the difference between a smart student and a lazy student?
The difference is the expectation of the question, so you find the smart student expecting the questions of his teacher, and he is the first to raise his hand to answer, even without thinking, because he anticipates the event and thinks of the question and the answer together before the teacher asks.
The problem is that there is a time gap that occurs between thinking and making a decision, sometimes this time period is not enough, and if you are nervous, your decision will be the worst decision you will make in your life.
So always try to anticipate events and anticipate what might happen, in order to be prepared for everything that might happen.
High expectations are the key to everything

Sam Walton
Be responsible
Be responsible for all your decisions, as long as you have the freedom to make the decision, you must be responsible for everything that may happen as a result of this decision, you may fail and you may succeed, but do not let anyone influence your decisions, you are the only one who will be harmed if the decision is bad.
In fact, the decision-making process passes through the stage of thinking about the event or question, then understanding it and understanding its dimensions, then we bring all our knowledge and experiences, and then we put all the possible options, and then we analyze each option separately, and in the end we choose one of the decisions that we see as the most important and least harmful.
Related Article: To Make the Right Decision Avoid Making Your Decision At These Times
The whole process of making a decision sometimes takes only seconds, and if you have no experience or knowledge, or you are confused and unable to think, you will turn to some people for help.
If you need help, you have to ask, but do not ask people to give you a ready decision, ask that they give you knowledge, that they help you with their experiences, and then take the above-mentioned steps, and choose for yourself what you see fit.
This is the responsibility you must have in order to succeed in your life.
But if you continue to depend on people for everything, you will not be completely satisfied with your life, and you will not succeed.
Be the leader
It is impossible to succeed in our lives without having some leadership qualities , leadership may sometimes be taking responsibility and making decisions among the first people.
we may return to the topic of how to control anger, and take the example of a person who talks a lot and a person who is boring, if you are tired of something and many people are like you Do not wait for their decisions, take your decision, but through the previously mentioned stages, do not rush, and do not make decisions that harm you.
There is a big difference between courage and stupidity. Don't be stupid, but be brave.
Related article: Qualities of successful leaders | Traits of leadership
Leadership is also to be a leader over yourself, as it cannot be a sponge that absorbs all people's decisions, and is looking to become a leader.
Leadership is also not stupid. Leadership also means knowing your own worth, for example in your work, do not say that you are the leader, and reject the requests of your manager, because in this case he is the leader.
you are your responsibility to carry out his work orders, and if there are private comments or opinions that She hesitates to present it, and in the end it is the manager's decision that will be imposed on everyone because he is responsible, and if the decision is wrong, he will bear the responsibility.
What I want to say, know the limits of your leadership, for every matter and every person has its limits, do not exceed your limits because in this case you will not be a leader but an intruder.
Leadership is getting someone else to do something you want because they want to

Eisenhower
Don't let fear hold you back
No matter how old we grow and our age, fear remains within us, but the older a person increases, the more his fear increases, because the child's mind is unable to understand life, so his fear is just a normal fear, of a strong person, or of the darkness of the night or of being alone in the house.
when it becomes A young man begins to fear grows, so he no longer fears the strong, nor darkness, nor loneliness, but becomes afraid of failure, afraid of the future, and when he has a family, the fear grows again, so he becomes afraid for his family, his money and himself, his fear increases a lot, and when he grows up a little , Fear begins for his health and the fear continues to increase.
I know that all people when they make a decision in their lives are afraid of its consequences, fear is a must exist, but do not make it everything. Because it will harm you and those around you.
For example, the mother's fear for her children makes her deprive them of learning a lot, depriving them of discovering life, and of contacting people and knowing the distinction between them, so you find this child whose mother was afraid for him, when he grows up he regrets every moment he heard his family's words, and things may turn upside down.
Do not be afraid of failure, without failure, there would be no success, read about anyone you see successful, you will find that he failed a lot before he succeeded, this lamp that lights the night, when Edison was trying to invent it, he failed a lot, and if he was afraid of failure, he would not have invented it.
What I've learned in my life, is that when I'm faced with fear it evaporates, and oftentimes I find myself afraid of imaginary things.
Constantly improve yourself for Achieving success.
One of the most important things a person should focus on is learning. Learn, then learn, then learn.
Do not stop. When you fail, know that there is a mistake. Just look for it, develop yourself and try again.
You cannot succeed while you are ignorant, and if you are lucky once, It will not be every time, there is always one step that separates you from Achieving success, look for it, and learn from your mistakes.
And always know that if you fail to learn, you will fail to succeed. If you want success without learning, failure is the best way. Failure does not require anything, other than sitting in your place.
Learn from people who have suffered in their lives, and are still suffering, these have treasures of knowledge, but they bury it in their souls, then learn from your mistakes so that you do not repeat the mistake twice, learn what is going on around you, watch people well and follow them and you will learn a lot.
This is life full of knowledge only you have to watch and learn Achieving success.
There are things that require some effort, and reading books and researching seriously, you have to give each matter its due. Achieving success always comes after hard work and learning from mistakes.