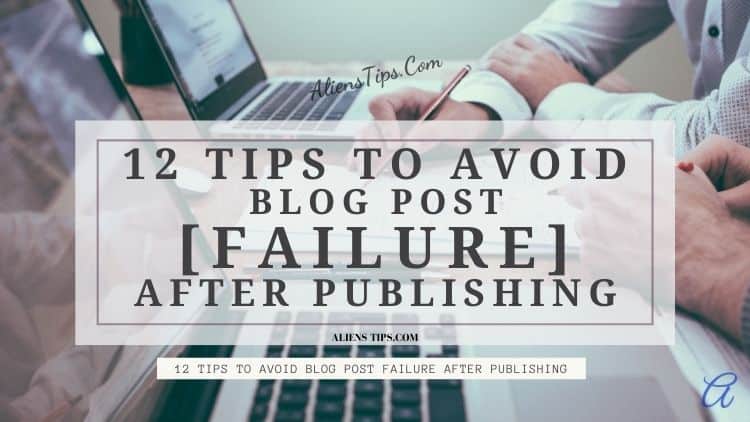 Blogging really is one of the greatest things you can do in digital marketing. It boosts your SEO authority on your site, and your credibility with your customer, and informs customers to make the right decision for the business.
Here are 12 things you need to do before and after you hit to Avoid Blog Post Fail "Publish" button on each post.
1) KEYWORD RESEARCH
Your blog posts must have a purpose and a goal. If you're writing just to put content on your site then congratulation for your wasted time, you're not doing yourself any favors.
Your blog should do two things:
Capitalize and highlight keywords that are being searched to help you rank higher for them.
Provide answers and satisfaction to your customers' questions and problems solved WITHOUT making it a sales pitch.
Start by doing some extensive keyword research for opportunistic keywords your site ranks for. Pay attention to the Google Search Console and take a look at your analytics under "Search Traffic".
Sort by impressions and position and see what keywords have the most interaction and impressions. If you're ranking low for these keywords, write blog posts that focus on those.
You can also notice what keywords rank well in the market by using some tools like SpyFu or SEMrush. Not only you will be able to see keywords data but you can also "spy" on keywords your competitors are using!
2) USE WHITE SPACE!
You've probably noticed by now that I'm using a lot of white space. White space is simple, the "empty space" around your paragraphs and elements makes it easy for the readers.
This improves reading comprehension unlikely more condensed content. In fact, research shows that white space increases that reader's comprehension by 20%.
what do I mean?
Just look at this example and tell me Which one would you rather read?
Look, I'm pretty sure you like the one on the right.
Keep your paragraphs simple one to two sentences and stick to the point. Remember, 90% of the readers are skimmers.
3) USE PROPER HEADINGS
Remember when I said 90% of the readers are skimmers?
Well-Selected titles and numbered items will allow these skimmers to pick up on the interesting topics they care about without missing them.
Did I mention that well headers of subtopics help with your SEO as well?
This is just one way of the ways Google digests information on your web pages. So please make sure you're using your keywords in your headers!
4) USE ALT-TAGS IN YOUR IMAGES TO AVOID BLOG POST FAIL
The more useful information Google can get, the better. Unfortunately, Google can't read images but fortunately can read alt tags. That's where alt-tags show up.
Most CMS (Content Management Systems) will allow you to edit the alt-tags of your images either at upload or right on the page.
Some, like Squarespace, will refer to these alt-tags simply as "descriptions". You'll also want to make sure you are using your keywords in the images as well, it's another ranking factor.
5) WRITE A CLEAR META DESCRIPTION USING KEYWORDS
If you're a beginner in SEO and digital marketing and you just got little curios from the phrase "Meta Description" don't worry, I will tell you. It's simpler than you think.
A meta description is a text under the title of a search result:
Aliens Tips is the online authority for insight, advice, training, and perspective for online marketing Making money, Entrepreneurship, Business, Self-development, Decorating and Entertainment.
All CMS' allows you to edit this description in the page settings. If it doesn't leave that CMS immediately. Believe me, I stuck in one like that before.
Should make this description relevant to your blog post.
Two small notes about meta descriptions:
1) Although updating this, is NOT a ranking factor in Google, the keywords a user types in to populate that search results will be bold! Taking advantage of optimizing each page and posting for specific keywords that are relevant will have high search volumes.
2) You don't want to have so much unneeded text in it that it extends past the description limit. However, Google updated the limit of the descriptions from 160 characters to 320. So take advantage of the extra content you can show readers!
6) USE INTERNAL AND EXTERNAL LINKS
The well backlinking that is Linking is Google's number one ranking factor.
But that means Google puts a lot of emphasis on relevant links on pages.
Before you hit the "Publish" button, find opportunities in your blog to link to your other blog posts or other pages on your site or other trusted site.
Additionally, link your site to relevant topics. Don't just link to competitors! But the link to resources you use.
In fact, a study shows that sites with more external links to other relevant sites tend to rank higher!
7) MAKE SURE YOUR POST IS NOT ABOUT YOUR CUSTOMERS
Nothing makes a reader run away is that feels like they're being sold to.
Your searcher is here to learn, not to buy something. At least for now.
Make the customers the hero, Make your content about your customers, not about you.
At the beginning of this article, I mentioned that your blog posts serve two purposes.
Capitalize and highlight keywords that are being searched to help you rank higher for them.
One of those was the satisfaction of your customers' questions and problems solved. Their question when reading a blog is not, "How much will I sell to you?"
8) PROOFREAD!
It might be worth mentioning that Google now checks spelling and grammar is actually a ranking factor.
Yes, that is happening for real.
So if you have to your English teachers then double-check.
9) SHARE, SHARE, SHARE!
Great, you hit the "Publish" button.
That doesn't mean the traffic is going to start crowding in. The great thing is you've got the "share" button. You have got to share it with the world!
Share it on social media like Facebook, Instagram, Pinterest, Twitter, and LinkedIn, wherever the audience is. Get your content out to the light. Use the right hashtags on the right platforms, and share to groups.
And it's okay to share it plenty of times. If you have a time of year where a certain piece of content is relevant, share it again and again during that time. There are always new readers looking.
10) KEEP YOUR POST UPDATED
Your article is delectable to Google.
It's great to use that.
But don' let Google gets over you and finds some fresher content out there. Keep your posts and articles updated with relevant content. Things, trends, and markets change.
You can check out their most recent guide to SEO best practices.
11) LINK RELEVANT BlOG POSTS AND INFORMATION ON YOUR SITE TO YOUR POST
Linking relevant blog posts on your site to your blog posts will greatly increase SEO value.
It is generally called building your site in a "Pillar Format".
Another ranking factor in Google is determining how to navigate your site based on the navigation to relevant material.
If you're a company and you have a services page about different services you offer, link something in that text to a blog post about how it is important.
For more information on Pillar Pages, you can check out HubSpot's really great post about it.
#SEO
12) WATCH YOUR ANALYTICS!
One of the most commonly important things after a blog post is posted is tracking your analytics in Google Analytics!
This is going to provide priceless information as to where your customers are going and reading and when after reading a portion or all of your blog. It will also tell you how your site doing, which will give you great insight into where to feature links to it on your pages.
Related: 5
**BONUS**
Having Pillar Pages is so helpful when watching your analytics on your articles.
IN CONCLUSION
Posting a blog post doesn't just stop after you've written it and hit the "Publish Button". There's much more to it.
Important, before you publish:
Do your keyword research.
Use white space and make things easy to read.
Use proper headings for skimmers.
Use alt-tags with relevant keywords in your images so Google can read them.
Write a meta description with relevant keywords utilizing keywords so your users know what they're getting themselves into.
the importance of internal and external links for better and high SEO ranking.
Make sure your post is not a sales pitch!
Proofread!
And after you publish:
Share your article everywhere that your customer is.
Don't let your post become viral and, keep it updated.
Link relevant blog posts on your site to your post.
Pay attention to interacting with users in your posts with Google Analytics.