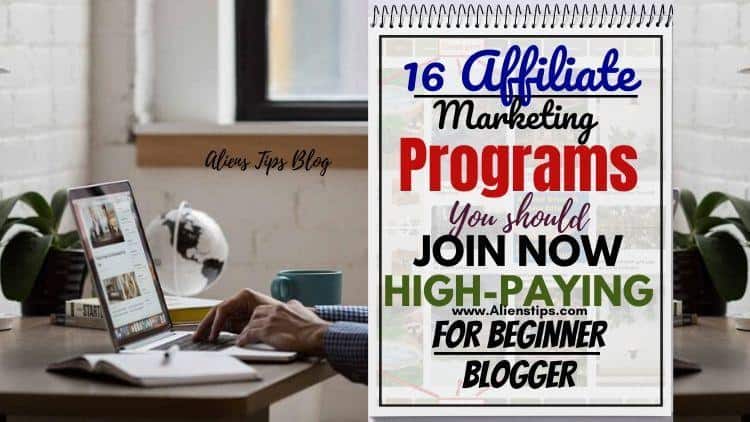 16 Kick ass Affiliate Marketing Programs You should Join high-paying For BEGINNER Blogger
16 Affiliate Marketing Programs You should Join high-paying For BEGINNER BloggerAffiliate Marketing
This is the way that every blogger prefers to start monetizing their blog.
I wouldn't say it's the easiest way though. Affiliate marketing can be really difficult! Essentially you join a high-paying Affiliate Marketing Programs and receive an affiliate link for a product and service you use and love.
When you consider that product and service in your blog post, you can associate with it (using your affiliate link) If a reader purchases the product and service through your affiliate link then you receive commission!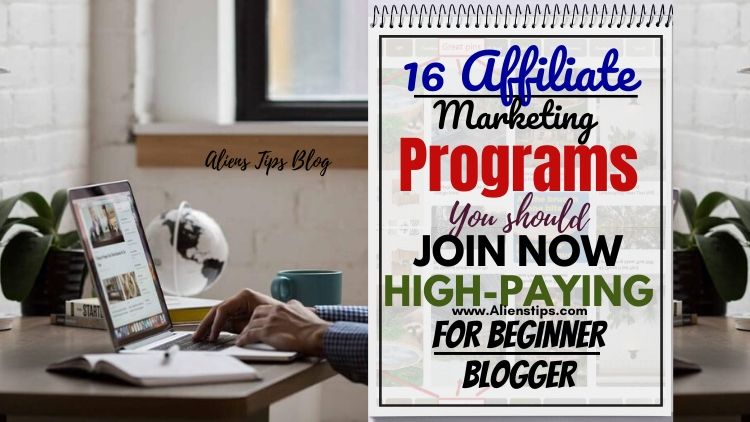 A huge question Aliens Tips readers had was How Can I Make More Affiliate Sales? What Can I Do To Effectively Succeed At Affiliate Marketing?
The First Step: Joining Affiliate Programs.In order to earn money with affiliate marketing, you need to join some affiliate programs. USUALLY, high paying affiliate programs are ideal. Some programs will have smaller commissions.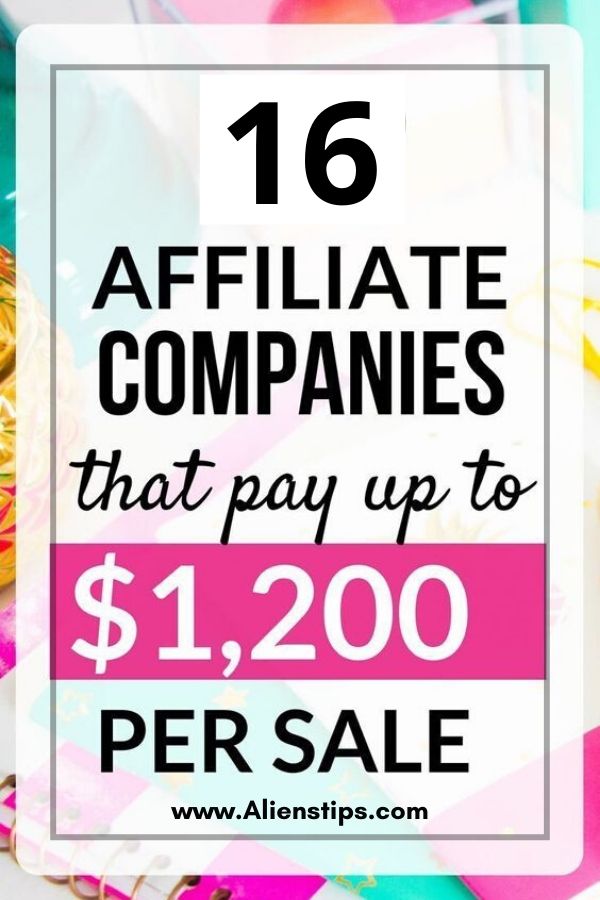 For affiliate programs (depending on your niche) I recommend checking out:
1. Share A Sale (have some high paying programs)
2. Shop Style Collective (better for beauty and fashion if you can't get accepted into rewardStyle)
3. Creative Market (Digital products, themes, graphic designs)
4. Amazon (ideal for all niches!)
5. Flexoffers (high paying programs)
6. Convertkit (email list builder)
7. Ebates (better for talking about saving money/shopping)
8. Swagbucks (better for saving money/shopping)
9. Teachable (better for course creation)10. Tailwind (Pin scheduling tool)
11. Awin (similar to Shareasale)
12. CJ Affiliate (similar to flex offers)
13. Siteground (hosting company)
14. Style Stock (stock photos)
15. Ivory Mix (stock photos)
16. Pixi Stock (stock photos)
Most of these programs I have been apart of.
Tips oF Getting Accepted Into The Program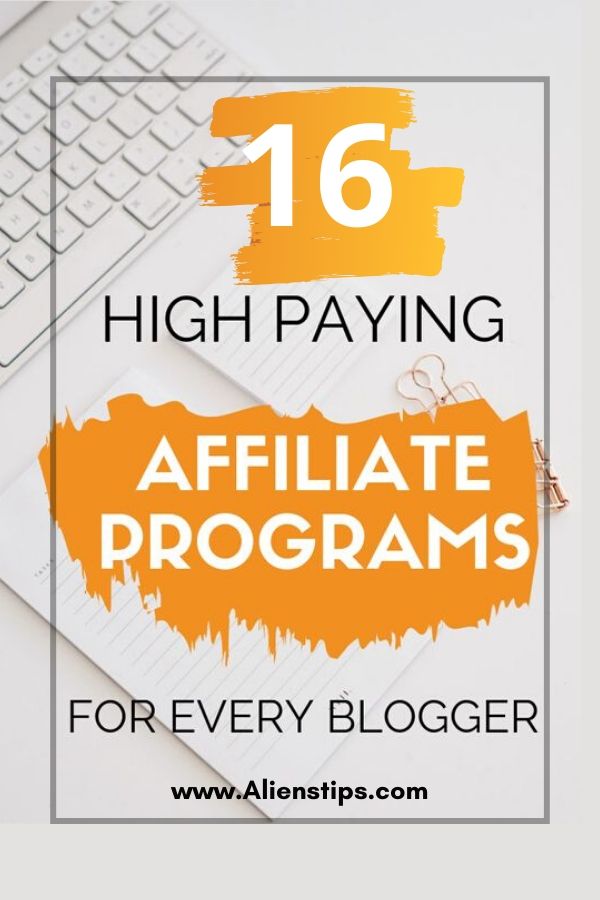 Have a professional self-hosted blog with your own domain name. You can check out Name Cheap if you haven't purchased your own domain yet. It's unprofessional to have a URL for example:
(www.yourblogname.wordpress.com or www.yourblogname.blogspot.com) you will want to have ownership of your domain name (www.yourblogname.com)
Have a disclosure and privacy policy on your blog. These are both crucial if you want to make money with your blog. If you use ads or collect information like emails you will NEED to have a privacy policy as well.
Have a few posts up before applying. I recommend a solid 5-10 posts to show that you have content and are a consistent blogger.
When applying, (if you are able to) talk about how you plan on promoting the links.
Did You Know You Can Pin Your Affiliate Links And Make Sales Via Pinterest?
NOTE* – When you share affiliate links on Pinterest you must disclose in the description that it is an affiliate link. ALSO – not all programs allow you to pin affiliate links so please double-check their rules!
CREATE A PIN
Another way to share affiliate links on Pinterest is by creating a pin for your link, just like you would a blog post. Rather than linking the pin to a blog post you would upload the created pin to Pinterest and link it directly to your affiliate link!
If you are a fashion blogger, take images of you in the product you are linking to, and pin outfit of the day shots or outfit flat lays, Pinterest LOVES outfit shots.
I am going to give some affiliate product suggestions for a few different niches just to get your creative juices flowing.
1. Fashion
Clothing you wear (brands you wear frequently, ShopStyle and rewardStyle are great for this. Maybe Target and Amazon?)
Shoes
Handbags and fashion accessories
2. Beauty
Makeup products you use/brands (again ShopStyle, target, amazon)
3. Lifestyle
Planners
Journals
Candles
Home decor
(Amazon is great for lifestyle bloggers, think of products you use every day and love, Shareasale)
4. Mommy
Baby toys
Any baby products
Clothes for kids
Books
(Amazon is HUGE for mom bloggers)
5. Food
Meal companies like Hello Fresh
Meal prep and kitchen supplies
Crockpots
(Again Amazon has it all)
These are just a few examples. Get creative. WHAT PRODUCTS DO YOU USE DAILY AND LOVE? Find the affiliate link or see if a brand has an affiliate program. Almost all products are on Amazon.
Aliens TIPs* Build A "SHOP MY FAVORITES" Page
You can create a page that links to your favorite products! If you are a fashion blogger you can link to outfits you love. If you are a lifestyle blogger you can link to products you use every day.
Types Of Posts You Can Write To Incorporate Your Affiliate Links
1. Round-up posts
2. Monthly favorites
3. Product reviews
4. Top favorite……
Disclosing
Now that you are using affiliate links, you need to protect your blog legally! You need to make sure you make it clear that your blog post contains affiliate links AND you should have a disclosure policy on your blog (especially if you will be doing sponsored posts with brands)
When disclosing links, the disclosure should ALWAYS be located BEFORE the affiliate link is mentioned. NOT AFTER.