How To Get Accepted in Merch by Amazon? How to Make Money with Merch by Amazon?
How To Apply To Merch by Amazon [Get Accepted FAST]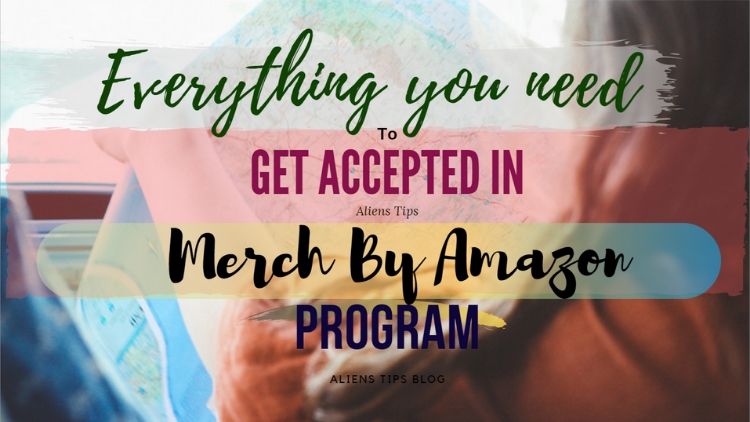 Merch by Amazon is one of the best ways provided by Amazon USA or even Amazon UK or in another name(print on demand t shirts, merch).
it enables you to make tons of money by being a partner with amazing;n such as designing (amazon shirts, womens shirts amazon, mens t shirts amazon, amazon t shirts women's ).
and earn money from and you will also make merch or merchant account, another interesting method Amazon FBA or you can join the Amazon Affiliate program and make real money with it.
Merch by Amazon started in 2015 to attract app developers by allowing these developers to design, and upload their branded t-shirts to Amazon's marketplace that is then sold, produced, and shipped by Amazon.
ِِAlso the founder of Amazon which has become the Richest man on earth as we mention in the TOP list for Richest man in the world in Our blog Aliens Tips.
You earn a commission for every single sale you do with no worries of customer service, upfront costs, or returns as Amazon handles everything for you that's awesome I know….
It's the ultimate Print on Demand opportunity for anyone talented and full of passion!
Merch by Amazon attacks widely from completely different markets, professions, and in continuous growth.
The demand for it brought many challenges to the platform and pushed them to move to "Application Only".
If you still haven't signed up for the account, just keep reading and follow the instructions below to give yourself the best chance of being accepted as quickly as possible.
The time you wait to get accepted into the platform may be long, but it is worth believe me.
Aliens Tips-Blog
How To Get Accepted in Merch by Amazon?
First, go to merch.amazon.com and sign up for a new account
Click on the Request Invitation button, and you'll be prompted to sign in or create an Amazon account. Go ahead and do that.
Agree on the Terms of Service, and then you'll be presented with the application page.
Make sure you include your Name or a Business Name.
Fill out the Additional Information field showing how excited you are to bring your unique design skills, and knowledge to the Merch by Amazon platform. I recommend you take all the time you need to fully fill this application.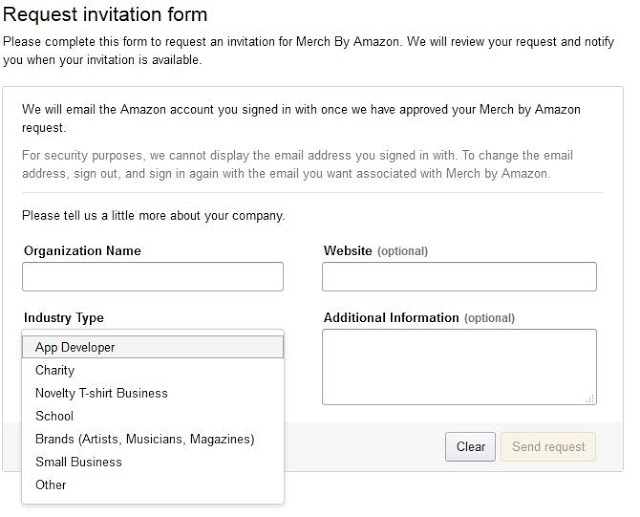 make sure you take the time to craft a good message here and show that you have design experience and that you care.
When you finish filling out the application form click the Send Request button.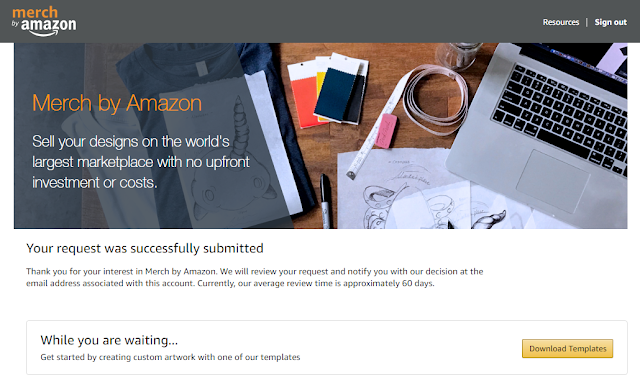 What can you do while I waiting for Merch by Amazon approval?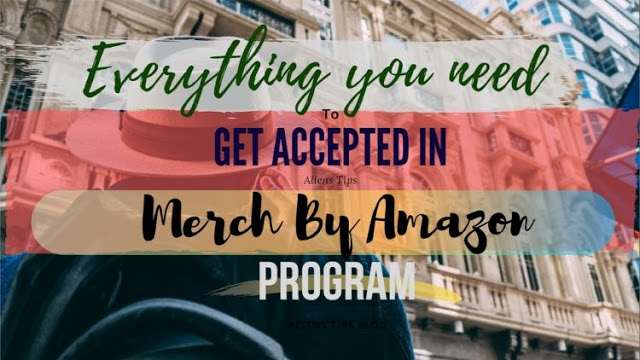 Merch by Amazon Study and get familiar with:
design templates
Gimp
Photoshop
Illustrator
How to do proper product
Keyword research
study the Dashboard after approval (important).
Create your design.
Uploading a design.
Choose where your design is placed in (front or back of t-shirt).
Type of the product.
Click Save selection and continue.
Select colors and price
Brand name, Title of product, List price, Key product features, and Product description they are so important.
New user they have "upload limits" in place Well, with a new account, you'll start with 10 tiers and be limited to 1 upload per day up to a max of 10 total designs on your account. As you tier up you'll be given more slots and allowed more uploads per day.
You can tier up by selling as many products as the tier level. If you are at the 10 tier you'll need to sell 10 sales to be eligible for a tier up.
What is Merch by Amazon tiers level:
10 – 1 upload per day.
25 – 2 uploads per day.
100 – 5 uploads per day.
500 – 10 uploads per day.
1000 – 20 uploads per day.
2000 – 40 uploads per day.
4000 – 80 uploads per day.
8000 – 160 uploads per day.
Best Ways To Promote Merch by Amazon Merch T-shirts to increase Your Sales
Pinterest: Merch by Amazon
Pinterest users are ready to spend money, which is exactly what you want to Promote your t-shirts by creating a pin and linking them to the appropriate URL.
Facebook Groups: Merch by Amazon
Facebook One of the best places to look for people who might be interested in your shirt is on the biggest social media platform.
Forums
you need to gather some brownie points (karma) so you don't look like you're just trying to sell something. There's nothing worse than going into a forum to talk to random people on the internet and see someone try to push you to buy something.
Slack/Discord
Slack is a messaging platform used for professional purposes. But, there are channels that serve niches like entrepreneurship, women in tech, and etc.. With a simple Google search, you can find them and request to join. Just like with Facebook Groups.
Twitch
keep that in mind when you're streaming. If you're a gamer or graphic designer, Twitch is the perfect way to promote your Amazon Merch t-shirts
Instagram so important in Merch by Amazon
It's easy to promote your t-shirts on Instagram if you already have followers, but if you're starting from scratch, it's difficult but still good.
Twitter
Just like Instagram, it's easier to have an existing audience on Twitter already versus building one from scratch. But, it's still possible. Search for your target audience.
Look for the hashtags they use and what their interests are. Engage with them and their friends to grow your following. Like, comment, and follow.
Amazon Marketing Services (AMS) Merch by Amazon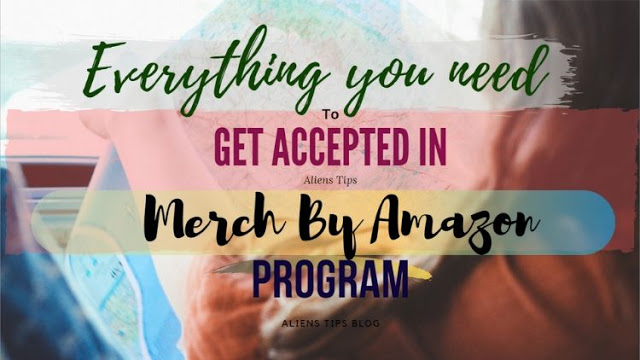 Amazon announced the launch of AMS for Merch by Amazon. This option isn't free, but if you do it right, you'll make a nice profit. Like most of their features.
it will be available on a rolling basis so don't worry if you don't see it right away.
Merch by Amazon is one of the greatest free passive income opportunities I've ever seen in a long time.
I recommend you fast apply if you find yourself talented, continue to learn, and stay consistent with your uploads each day.
If you do these things you'll be creating a viable passive income stream in no time.
Merch by Amazon Aliens Tips-Blog